Email is a fantastic marketing tool for any company. It is still among the top efficient methods to connect with customers. But hackers can also use emails to spread malware and phishing messages and organize attacks against users.
This article will provide an overview of the most frequent security issues marketers confront. It will also offer suggestions for increasing security for marketing emails.
Common Security Problems for Email Marketers
Businesses aren't the sole ones who understand the importance of email. Cyber-criminals and hackers are seeking ways to be part of the game.
One of the ways hackers love is posing as legitimate businesses to fool victims, also known as Phishing. Yes, the word "phishing" is derived from the form of "fishing." Like the vast oceans filled with fish, the internet houses millions of email accounts.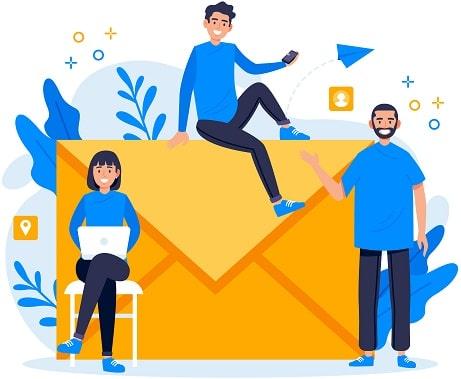 The perpetrators create their hook (bait email) and send it out to thousands of email addresses. People will begin crawling into the volume.
When phishing attacks are used, victims could expose their passwords, login details, credit card details, personal information, and other sensitive data.
The distribution of malware is also quite typical. Hackers can send malware-laden links or attachments to encourage people to download the malware. It's not unusual to find employees receiving these types of emails.
Hackers aren't all the people who could cause security issues for email marketers. The threat sometimes is from within.
Unknowingly or not, employees could also pose security threats. They could use weak passwords, which can lead to email accounts being hacked.
Read: The Importance of PR to Businesses
6 Tips for Secure Email Marketing Campaigns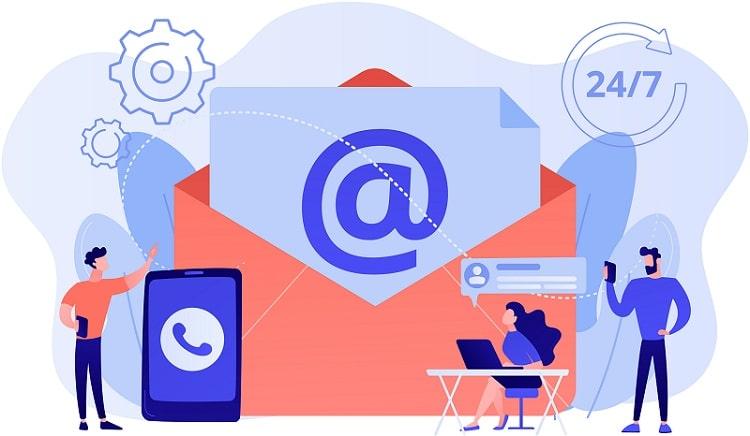 #1. Invest in Security Software
To protect the emails you send to your account, and it is essential to use the appropriate tools. A good security program can stop malware and other dangers from spreading.
Before sending emails out, make sure you have a firewall that blocks the emails and ensures no changes are made to the messages. Hackers can compromise your network without your not even realizing it.
They can modify emails and even include dangerous attachments. If your clients become affected, your company could take a huge hit on its image.
Another tool that can be helpful is the phishing detection tool. Phishing is the most frequent attack that is carried out via email. It is crucial to recognize phishing attacks to ensure company data security.
Secure your email accounts by using strong passwords and 2-factor authentication to protect them. The most effective method is to use software for managing passwords that creates strong passwords and safely saves them passwords.
Read: Social Media Marketing Tips For Local Businesses
#2. Use Reputable Email Marketing Tools
Utilizing email marketing tools to create and send out emails is the most effective way to make the entire process simpler and more effective.
Tools such as Mailerlite, ActiveCampaign, or Mailchimp can guide you through marketing your emails from design to analysis.
Before you implement any tool, you should research its security procedures. It is possible to contact the tool vendors and inquire about their security measures.
How will they manage your database? Who has access to it? Once your data is released, you are no longer in the ability to control it.
The consequences of sharing customers' personal data in this unwise manner could be devastating. Be extremely cautious about the information you provide to third organizations (and vendors).
Read: Ways to Keep Followers Interested in Your Business
#3. Learn How to Encrypt Emails
Unencrypted emails pose a risk for businesses since they could contain sensitive information about the company or its clients.
To ensure that only the appropriate people are only able to read your email messages, it is essential to encode your emails. There are a variety of methods to protect your emails.
The most costly option can be enterprise encryption. It involves deploying a physical device or an application on the cloud, allowing you to send secure emails from server to server.
Asymmetric encryption is a different method. It's a bit difficult to implement and isn't recommended to use in large-scale marketing campaigns.
This method will make two distinct keys to encrypt and unlock the messages. The recipient must have two keys to decipher the message, which makes this method extremely secure but difficult to implement.
This isn't advised for marketing emails. Finally, there's a method known as "Encryption during transport." As the name implies, emails are protected while shifting from one server to the next. This is possible because of an email server configuration.
Read: Zale Media CRM Discusses The Most Effective Digital Marketing Software
#4. Implement Secure Delivery Practices
If your email is sent to your clients, it will go through various anti-malware and anti-spam filters. For your marketing campaigns to be effective, ensure these filters are not rejecting your emails.
Here are a few actions you can take to stay off the blocklists of email:
Use a proper opt-in mechanism setup.
Before you can email anyone, it is necessary to obtain permission from them. The most efficient method is to use the opt-in form on your website. Your customers should also have an easy method to opt-out at any point.
Use a dedicated IP address.
It is best to choose a separate IP address for sending out emails. IP addresses shared can result in problems caused by other emailers. Contact your ISP to request an IP address that is dedicated to you.
Verified email addresses.
Sending emails to unregistered and expired email addresses is a quick method to be placed in the email blocklist. In addition, your emails could become more of a potential target for hackers.
Read: 10 Best Social Media Automation Tools For Content Marketers
#5. Become GDPR-Compliant
In the year 2018 in 2018, the EU adopted its General Data Protection Regulation (GDPR). The GDPR is an established set of regulations regarding data privacy.
If your company is located inside the European Union, you must comply with GDPR. Find out the laws you have to follow from your local authorities to send emails within your region.
A few rules that are pertinent to email marketers include:
Consent to email marketing materials to existing or potential clients.
Data breaches must be reported within 72 hours of being aware of them.
Allowing users to inquire about the location and method of using their data.
Data protection officers are required by law. You must ensure that your company is GDPR compliant.
Email marketers collect massive amounts of customer information during their campaigns. Data manipulation mistakes can have serious consequences for businesses.
Read: Checklist For Amazon Product Listing Optimization
Here are some things marketers of the email should be doing:
Review all the customer information you currently have. Examine the source of the data and the person who can access it.
Check out the current processes for collecting information. It is best if you are especially cautious when handling information on children.
Think about hiring/appointing a Data protection officer to maintain GDPR compliance. In certain situations, it is mandatory.
Document the legal justification for collecting customer data.
On the GDPR's official site, you can access an exhaustive checklist that will assist you in making your business GDPR-compliant.
Read: SMS Marketing Strategies That Work For Modern Businesses
#6. Educate Employees and Customers
Establishing a culture of security within the workplace can make a huge difference in helping the business become more robust.
Whatever line or industry you're working in, you can become a cyber security ambassador for employees and customers.
Training videos and education can make employees more aware of threats. They'll develop safe practices when managing their personal information and emails.
Incorporating tips on email security in employee newsletters can help make your employees more aware.
Read: LinkedIn login Page for Jobs & Business
Employees must know the following:
It is crucial to have strong passwords.
The most frequent cyber-attacks.
The particularity of the data they're dealing with.
How to recognize suspicious activities (phishing emails or scams, etc. )
It is also possible to help your customers recognize phishing scams by including a disclaimer at the end of every message you mail.
The disclaimer should inform customers about scams common in email and ways to stay clear of them.
Final Thoughts
Email is among the earliest inventions of the internet. However, even a few years after its invention, it is still the preferred method marketers use to reach out to their clients.
One of the most important aspects of email marketing that's not discussed often enough is the security of emails.
To ensure your email is secure, use these email security tricks. Secure your email to stop unauthorized users from accessing the emails. Also, look at the practices you use to deliver your emails to ensure they're secure and current.
More Related Posts:
For More Digital Marketing Updates and Information about Secure Email Marketing Campaigns, Visit Etech Spider and Follow Us on Facebook.