Boxing Day sales are one of the year's biggest and almost as popular as Black Friday. And although the large influx of customers is a great sight for retailers, it can become a nightmare if the store is not prepped ahead of time. 
Any store owner must ensure that everything is running smoothly ahead of the sale and that all preparations are complete beforehand.
The store prep shouldn't just be restricted to smooth running on the day, but it should also be done to attract maximum customers on that day which means that you must also focus on in-store marketing before Boxing Day rolls around. 
Prepping the store for a vast sale can be tricky, but these are seven essential steps you must take to ensure that the customers have a good experience and you maximize sales on Boxing Day without running into any trouble. 
Ways you can prep your store for boxing day
#1. Prepare your staff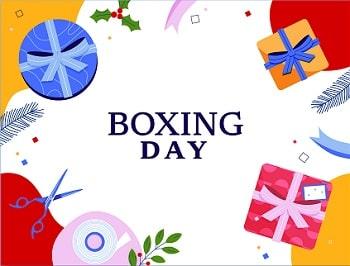 Such sales bring about a lot of foot traffic, which can overwhelm the store employees. You must prepare all your staff for a Boxing Day Sale.
Not only will you need all hands on deck that day, but you might need a few more employees, which is why many stores look into hiring extra employees during the holiday season.
It helps alleviate the work burden on employees and allows them to deal with customers more effectively when there is a large crowd.
Sales personnel reflect your store, and their behavior and attitude influence customers deeply. It is why you must ensure that all your staff is relaxed and ready to work when the crowds roll in.
They must also be aware of their responsibilities and tasks so that things can run smoothly and there are no hindrances when dealing with the increased traffic. 
#2. Focus on marketing
When a huge sale or event is coming, you must market it well to ensure that you can take full advantage of it. You must use all possible avenues to market the sale. It includes social media marketing, flyers, and in-store marketing. 
For online marketing, you can create multiple Boxing Day flyers that display the date of the offer and the discounts being offered. These posters can be displayed on social media platforms and within the store. You can also print them out and distribute them around town. 
#3. In-store digital signage
Digital signage refers to displays on television, screens, or projectors, within the store or near the premises. You can use this to get attention from people passing by or inside the store. 
You can use it to display the eye-catching posters you have created ahead of the sale. Make sure the display is large and clear so that people instantly notice since multiple stores will have sales at the time.
You can use digital signage also to display various products and the deals offered on those products. Just place these signs inside and outside the store.
You can also create interactive content if you have touch screens, such as quizzes, to see which products are for them. You can also use the signage to display the store's layout or show which racks have discounts. All this will also reduce the burden on your employees. 
#4. Get in the holiday spirit
The store should be decorated for the holiday season and display your festive spirits. Having Christmas decorations and visually appealing décor adds to the customer experience.
It also gets people's attention and attracts them to the store. Once they are in the store, your in-store marketing can work its magic. 
#5. Best things upfront
Often people will come into a store if they see something that catches their eye in the window. You must ensure that your best-selling or more popular items are placed near the entrance. Have vibrant-colored products upfront or dress-up mannequins to create outfits that bring in customers. 
#6. Stock up on best-sellers
The last thing you need on sale day is to run out of something in high demand. People sometimes buy popular items at a discount, which is why you must ensure that all your best-sellers are stocked up ahead of the sale. 
Look at your inventory to ensure you have enough stock, as you don't want the opportunity of a boost in sales to go to waste. 
#7. Make sure everything is up and running 
Customers must feel like things are running smoothly in your store, and there should be minimal delays. Make sure you have multiple payment counters and options and that they all run smoothly. If there are too many delays, people might leave empty-handed. 
Conclusion
Boxing Day Sales are an excellent opportunity to boost your sales, which is why you must ensure that everyone and everything is ready for it. Your priority should be giving customers a smooth and joyous experience and ensuring no one leaves the store empty-handed.