Mobile marketing has revolutionized digital marketing. In this digital era, it is difficult for a business to sustain without mobile marketing. The outcome of investing in mobile marketing was so lucrative that it forced many small businesses to implement it.
Moreover, the amalgamation of Mobile and Push notifications in the form of iOS push notification and Android push notifications have given mobile marketing, a new zeal.
The ability to reach instantly to the audience around the world has made mobile marketing, a prime marketing strategy.
Small Businesses are more focused on Mobile Marketing
This is the reason why small businesses are taking mobile marketing seriously. To help you more with this, let us discuss Why small businesses are more focused on mobile marketing?
#1. Ease of use
Mobile marketing is simple and easy to handle as compared to other marketing techniques. It just requires a simple SMS or MMS along with a link to reach customers. Once the text is delivered to customers, It becomes easy for them to use the link for landing directly on the platform.
#2. Fastest mode
According to "Statista" currently there are more than 3.5 billion smartphone users, worldwide. This means mobile marketing provides the ability for small businesses to reach audiences throughout the world. It just takes a few seconds to reach almost every corner of the world.
Moreover, it is direct and two-way communication between a customer and business. This helps to build trust and aids in sales.
#3. Push notifications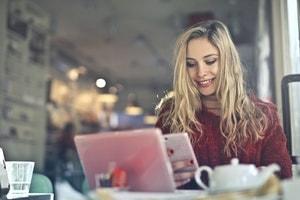 Mobile Push notifications in the form of iOS push notifications and Android push notifications are of huge importance for small scale businesses. They provide the ability to use rich media. It means business owners can add text, images, video, graphics, gifs, emojis, and so on.
This enhances the value of notification. As a result, the audience can,t stop themselves from viewing push notifications. Thus it increases the chances of a sale. Moreover, push notifications provide the ability to use personalization and segmentation.
This further motivates the audience to visit a platform, thus increasing the chances of a sale. In addition to this, push notifications can be timed. It further increases the chances of a sale right on the spot.
#4. Ease of tracking
When it comes to mass campaigns, they are difficult to track. Thus it becomes difficult to analyze what is working and what not? If working, then to what extent.
When it comes to mobile marketing, it can be traced easily. One can easily track progression from the clickable links. The click-through-rate (CTR) of a campaign provides crucial data to marketers.
This data can further be used to make necessary changes in future outreach. This will add value and variety to future marketing campaigns. As a result, one will get more Return on Investment (ROI).
#5. Good customer experience
Mobile marketing is known for convenience. It provides small businesses with an ability to notify their audience about fresh discounts, products, services, and so on. Not only this, but the audience can also be asked for regular feedback.
This will make them feel special. This will make customers feel, that they are being taken care of. As a result, it will help to establish trust. When customers trust a certain platform, they are not going to leave that platform so easily. This means an opportunity for small businesses to remain far apart from competitors.
When it comes to mobile marketing, it is not limited to SMS and MMS. Marketers can improve their reach by taking the help of various social media platforms.
According to the "Digital 2020 Global digital overview" more than 4.5 billion people are using the internet around the world. Among them, more than 3.8 billion people are active on various social media platforms. Most of these people are accessing social media through their mobile phones.
It means mobile marketing can provide a huge lead to small businesses. It provides them the ability to reach a maximum audience throughout the world with minimum efforts.
#7. Economical
One of the issues with small businesses is the budget. Small businesses are not having a huge budget. It means they can't go for expensive advertising. They can't invest in big TV commercials. They can't hire celebrities for advertisements.
But, when it comes to mobile marketing, it provides them with effective results at an economical price. As running an SMS campaign or push marketing campaign on mobile does not cost much. It is less expensive to the extent that almost any small business can afford.
Conclusion
Mobile marketing has given a new insight into the world of marketing. It has made marketing so easy and economical that one need not invest huge money and time. This is the reason why small businesses are focusing more on mobile marketing.
Author Bio: Wonderpush provides you a huge opportunity to boost your marketing campaign. It provides you with iOS push notifications and Android push notification to reach the audience instantly throughout the world.
For More Information About Digital Marketing and Mobile Marketing Tips, Visit Etech Spider.