Amazon product listing optimization isn't a one-and-done task. The idea is to grab your target audience's attention and convert them from viewers to shoppers.
Therefore, you must persistently optimize your listings to gain better outcomes in terms of:
Rankings
Visibility and discoverability
Sales and profits
Customer satisfaction
Traffic
Brand recognition
Conversion rates
Here's a product listing optimization checklist for sellers who want to reach their buyers quickly and secure better returns while selling on Amazon.
Amazon Product Listing Optimization Checklist
With millions of products on its platform, Amazon has become the go-to marketplace for shoppers looking for various items. As a Seller on Amazon, standing out among the sea of products can be challenging.
This is where product listing optimization comes into play. Amazon product listing optimization involves optimizing product listings to ensure they are easily discoverable, appealing, and informative to potential buyers.
A well-optimized product listing can increase the visibility of a product, drive more traffic, and ultimately, result in more sales.
We have explored the key elements of Amazon product listing optimization and provide tips to help sellers improve their product listings and increase their sales on Amazon.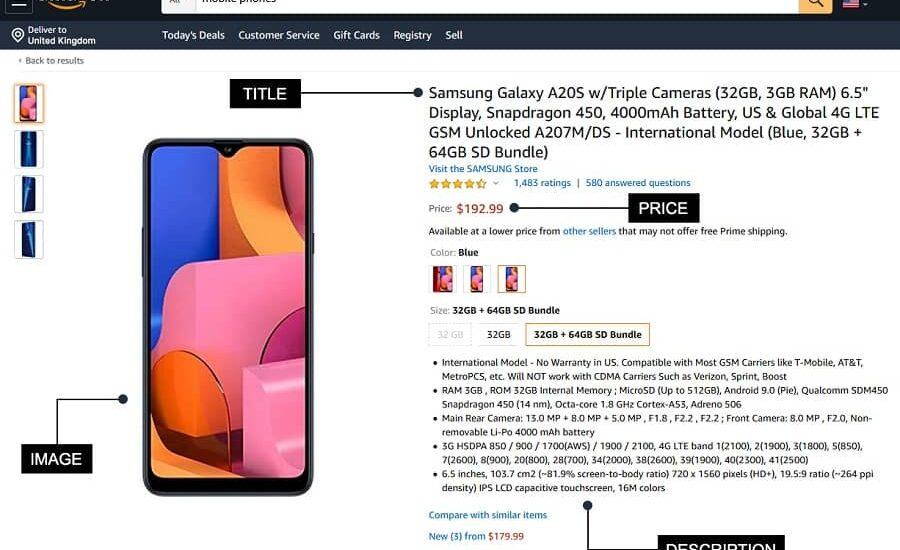 #1. Product Title
The product title is the first thing a buyer sees when they come across your listing on a search result page. It determines whether or not the customer will continue to your listing and stay there to read more about your product.
As a seller, you must ensure that your product title provides the required information and instantly catches customers' attention. If you want to present your product's title exquisitely, incorporate all the relevant search terms.
Checklist for product title optimization:
Do's  
➔ Amazon allows sellers to use 200 characters. Keep your title within that limit.
➔ Mention the brand name, model, size, fabric, colour, dimensions, etc. (if applicable)
➔ Include keyword(s) with high search volume
➔ Mention the major USPs
➔ Keep it informative yet short and precise
➔ Capitalize the first letter of each word (except conjunctions and prepositions) for easy readability
➔ Use (and) instead of (&)
➔ Insert dashes or hyphens to highlight essential information
➔ Make sure the title is readable and descriptive
Don'ts
 ➔ Avoid unnecessary or too much information
➔ Don't exceed the character count – it might lead to a suppressed listing
➔ Don't capitalize the entire title
➔ Refrain from keyword stuffing
➔ Don't mention the price in the product title
➔ Don't use promotional content such as sales or discount
➔ Don't use HTML tags and special characters
#2. Product Description
Amazon allows sellers to educate customers about the products in detail via a dedicated section for descriptions. In addition, sellers can use up to 2000 characters to inform shoppers about their product and how it can help them.
A well-optimized product description engages customers, helps them make an informed decision, and can also persuade them to click the "Buy Now" button.
Checklist for product description optimization:
Do's
➔ Include useful, relevant product information
➔ Mention warranty/guarantee, wash care instructions, unique selling points (USPs), and other essential details
➔ Use a neutral tone and persuasive language
➔ Use 5-6 bullets to highlight key features
➔ Support your claims
➔ Keep it SEO-friendly by adding primary and relevant keywords
Don'ts
➔ Avoid any promotional content
➔ Don't overuse keywords
➔ Refrain the use of HTML tags or special characters
➔ Don't use the manufacturer's description as it will affect the uniqueness
Since customers want complete information about the product they are willing to buy, make sure the descriptions are detailed, unique, and helpful.
#3. Product Images
Among other factors, a customer's buying decision heavily relies on product pictures. Therefore, providing high-quality, well-lit, and eye-catching product images is a crucial aspect of Amazon product listing optimization.
Checklist for product image optimization:
Do's 
➔ Must be at least 1000*500 pixels
➔ JPEG, PNG, GIF, or TIFF format
➔ Post realistic images captured in abundant light
➔ Upload 4-5 pictures taken from different angles
➔ Use a white or plain background
➔ The product must cover 85% of the image
➔ Use high-resolution images for better zoom-in capability
Don'ts
➔ Avoid logos, props, watermarks, borders or text over images
➔ Don't use coloured, cluttered, or blurry backgrounds
➔ Don't include images of related accessories (especially if they are not included with the product)
➔ Strictly avoid dull, low-quality images
➔ Don't exceed 10000 pixels in image size
Your product images' quality significantly boosts your store's sales. To represent your product uniquely, you can leverage assistance from photo editing experts or use advanced photo retouching tools.
#4. Product Price
You must set competitive prices if you want your listings to perform well on Amazon. Before you price your products, consider two variables.
● Calculate your costs and then decide on a profitable price (after including all the costs).
● Your prices must be competitive enough to get you in the top search results (above your competitors' listings).
Checklist for product price optimization:
Do's 
➔ Monitor competitors' pricing in real-time
➔ Keep prices competitive yet profitable
➔ Revise your prices based on market fluctuations, especially during the festive season
➔ Use competitor price monitoring tools or ask an Amazon optimization specialist to do it.
Don'ts
➔ Avoid revising prices too often
➔ Don't keep the prices too low (otherwise you might lose on profits)
Besides rankings, you can also increase your chances of winning the Buy box by optimizing the price of your product.
#5. Keywords
You must conduct extensive keyword research if you want your Amazon product listing to appear in the top results. Targeting relevant keywords (with high search volume) is the key to high rankings and visibility on Amazon.
To facilitate keyword optimization, think about how your audience searches for products similar to yours. Prepare a generic keyword list, like "shirt" or "camera," and consider its variations.
For instance, "blue stripe shirt" or "dual-lens camera." Take help from the Amazon search console; it will throw suggestions when you type anything. Additionally, you can use Amazon-specific tools for keyword research as well.
Whichever method you may choose, focus on relevance. Targeting irrelevant or wrong keywords in the listing can result in heavy losses in terms of money and rankings.
Checklist for keyword optimization:
Do's 
➔ Use keywords research tools to discover the correct search terms
➔ Analyze competitors' listings to find the keywords they are targeting
➔ Properly integrate keywords in the title, description, and bullets
➔ Include both short-tail and long-tail keywords
➔ Use backend or hidden search terms to fit long-tail keywords
➔ Monitor keyword performance
➔ Inspect related item categories for additional keyword ideas
Don'ts
➔ Avoid keyword stuffing
➔ Strictly avoid subjective keywords like "best seller" or "fantastic product."
➔ Don't target the exact keywords in the title, descriptions, and bullet points
➔ Don't stress about using plurals for any keyword; Amazon's ranking algorithm will consider all variations of a keyword (spelling & forms)
Additional Amazon Product Listing Optimization Tips
You must optimize other essential elements of your listing to outrank your competitors, drive conversions, and add brand value.
Use bullets for easy readability and scannability
Distribute a few keywords throughout the bullet points
Utilize A+ content to make a strong impression
Create layouts to showcase your brand image & product benefits
Collect positive reviews and ratings
Use Amazon videos to create a more engaging listing copy
Optimize Your Listings And Build Your Brand On Amazon
With more sellers joining the Amazon marketplace, the chances of brands selling products similar to yours also increase.
Therefore, Amazon product listing optimization becomes more important for higher rankings and visibility and to stay ahead of the competition.
To make the most of your product listings, you can consult an Amazon optimization specialist or outsource listing services to an experienced vendor.
Since professionals are well-versed with Amazon's guidelines and industry standards, they will deliver highly optimized listings while saving your time, effort, and money.
Author bio: Mike Wilsonn is a content strategist at SunTec India with a specialization in eCommerce and Amazon optimization. He has 5+ years of experience as a B2B content creator and has written numerous informative pieces to help sellers make sense of the continuously evolving eCommerce landscape.
For More Latest Digital Marketing Updates and Information about Amazon Product Listing Optimization Checklists, Visit Etech Spider.