Your work isn't done with just the content you upload on your blogs and websites; there is still a lot to be done after that.
To get adequate engagement and reach a wider audience, there are various marketing strategies that everyone switches to; email marketing software is one. (a major one)
To have the necessary tools for accessing the audience and to have a more extensive reach, there are various email marketing softwares that you can choose from; GetResponse is one of them, and it is by far the best I have seen.
How GetResponse is The Best Email Marketing Software
So, before we get into the reviewing part, let us see what GetResponse allows you to do in general and why it's called the best email marketing software for online business and lead generate.
GetResponse is a software to promote your content by sending mails, allowing subscriptions, and many related tools and services.
7 Key features of GetResponse Email Marketing Software
It is with such email marketing software's that you can get engagement and conversions for your websites.
#1. Autoresponder
An autoresponder lets you email your subscribers automatically and keep them informed regularly. You need to select the time interval and the type of action you want while sending them. Brands use this to reach out to the maximum publicity for their offers, while bloggers use it for recent updates.
#2. Analytics
With GetResponse and its analytics tool, you can take your email marketing strategy to a whole new level.
#3. List booster
Dealing with all the contacts is quite a task; however, with Getresponse, you can import contacts easily and make the entire emailing thing simpler with the least amount of complications.
#4. Webinar support
GetResponse is the first-ever software to have supported webinars for increasing conversions and engagement rates. There are many templates available for sending webinar invitations followed by regular follow up.
#5. Video Tutorials
One of the essential features of GetResponse is that it provides a video tutorial for every part. This helps the newbie and beginner to start the product with confidence without any dilemma.
#6. Pricing
Available for a varied range of users: The different plans available, namely, Email, Pro, Max and Enterprise, has a range of features to offer depending upon the price range and, of course, the level at which marketing has to be implemented. For someone using the Email plan, this is the cheapest available Email marketing software.
#7. Testing features
The testing features are powerful, which makes it a personal favourite of many. When you can test run your campaigns and accordingly work with the movements to follow, you always will be able to get a higher number of conversions.
#8. Landing page creator
GetResponse has the best landing page creator as compared to other similar tools. You will need a higher plan for using this feature entirely, but this is one prominent win-win feature for anyone trying to set up email marketing for their websites.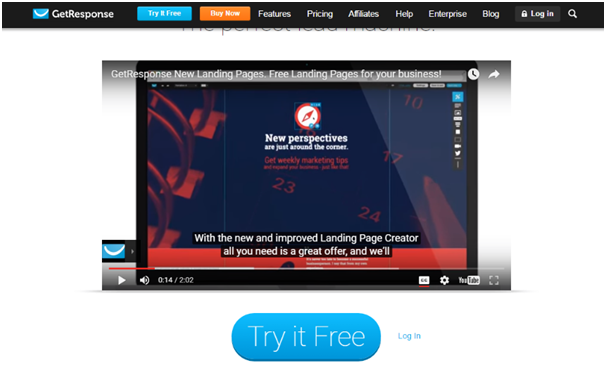 #9. Customer support
Such softwares require extensive support on the software personnel's end as there might be multiple queries every time you create something new.
#10. Free trial
Now, if you are sceptical about buying the entire plan as well, you can still work it up for yourself with the free trial version available. It will get your insights into the basic functioning of the software, which will allow you to fathom how feasible this will be for you.
#11. Inference
Undoubtedly, there is more to like about email marketing software than there is to improve. Giving it a 30-day trial is always the best choice to be sure of what you are signing up for.
However, a detailed study would assure you that GetResponse is the best solution to all the email marketing needs and requirements.
For More Latest Software Updates, and Information about GetResponse Email Marketing Software, Visit Etech Spider.