You need more than just the best agents to have a first-rate and well-functioning call center business.
You should have the appropriate technology to drive results, as even your most skilled workers won't be able to deliver a positive customer experience without the proper technological infrastructure.
But with so many technology vendors selling software with different strengths and functionalities, finding a software suite that best fits your company's needs can be challenging.
7 Tips To Choose The Right Call Center Software
To help you choose the right call center software for your business, here are seven tips that you can consider:
#1. Suitable Software for your requirements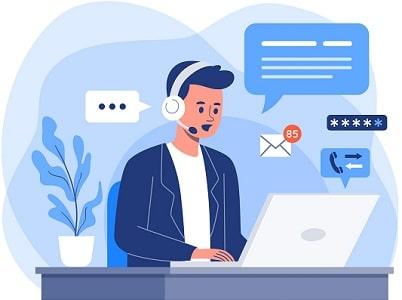 When selecting a type of software, you should always make sure it is suitable for the kind of business you run. This will help you narrow down your list of options.
While different types of on-premise call center software are available in the market, many companies are turning to cloud-based contact center software.
This is because internet-based software is typically more cost-efficient, giving users access to various data-sharing applications, among other advantages.
Read: The Versatility of GPS Tracking Solutions and Benefits
#2. Research on Software and Technology
Well-informed about different software types and brands can help you make better decisions. You don't have to know everything about information technology for contact centers.
Still, you should at least check the software's features as stated by the software provider and read user reviews online.
By gathering as much information about how a product performs, you can better understand whether or not a specific kind of software is effective and can help you achieve your goals.
Don't forget to check the reputation of prospective technology providers. A simple search online will allow you to discover which suppliers are professional and reliable.
The usual indicator of an excellent technology partner is positive reviews from satisfied users.
Read: How Can Technology Help You Take Your Business to the Global Stage?
#3. Check the features offered
Aside from considering the type of software you need, it will also be helpful to list the features you seek in call center software.
It would be best to look for a few common and useful features: telephony, call management tools, skill-based routing, automatic call distribution (ACD), and an interactive voice response (IVR) system.
These are beneficial functionalities that can enhance your operations.
Read: 10 Best Features That Make Adobe Commerce the Perfect For An eCommerce Store
#4. Consider the price tag
Exploring prices may seem simple, but there are several factors you have to consider aside from the initial expenses you have to pay. Are there implementation fees and training costs?
Is there a price to pay per agent or minute? Do you have to pay to be able to use certain features? These are essential questions that you should ask the software providers.
Make sure that the billing is transparent to avoid racking up hidden fees.
#5. Ensure that you'll get technical support
Even if you have the best software installed, you're bound to encounter issues in the future. Technology is not perfect, after all.
As such, it's imperative to have responsive, 24-hour technical support from your software provider. This ensures that you can contact your providers to resolve the technical problem quickly when things go wrong.
Read: Professional Software Support Services: How it Helps to Beat The Curve
#6. Consider the add-ons and tool integration it can support
To up your game, look for software that can support several handy tools. For example, call center software with business tools integration and automated tasks can improve workflow by automating repetitive tasks.
You can also benefit from integration options for chat and social media. These platforms can act as quick and convenient communication channels that you can use to engage with your customers.
#7. Make sure it is easy to implement and use
To survive in the fast-paced call center world, you need an equally speedy software solution. However, some contact center software can be challenging to implement, deploy, and scale up.
These can cost your business valuable time and resources, and they can even affect customer satisfaction. Another thing to consider is the navigability and intuitiveness of the software. Is it easy to use?
Will your agents be able to master the tools in a short time? While many might say that a complex system indicates quality, simple-to-use but high-performance software is available in the market. To ensure that you choose the right software, you should conduct a trial run first.
Because call center software can help improve your operations and benefit your bottom line, choosing an appropriate one for your business is a must.
Deciding on which one to acquire can be challenging, but with these tips and with the help of a professional call center consultant, selecting the perfect call center software for your enterprise can become more manageable.