Adobe commerce is the world's leading advanced eCommerce development platform specially designed for entrepreneurs and brands.
It is the enterprise edition of the popular eCommerce platform of Magento, or we can say that Magento is now called Adobe commerce.
This eCommerce platform is equipped with innovative and powerful features that allow you to do better business deals with all types of customers across the globe.
The platform aims to provide merchants with superior business convenience on a scalable, open-source platform with unmatched security.
10 Best Adobe Commerce Features
To reach their target clients across devices and markets, businesses of all sizes can use this top eCommerce platform.
Adobe commerce is practically better than a flexible shopping cart system which ensures the growth of your online business.
Why is Adobe commerce a popular e-commerce platform? You might be curious about it! So, this article will explore the features that make Adobe commerce perfect for an eCommerce store.
What Features Make Adobe Commerce a Best eCommerce Platform?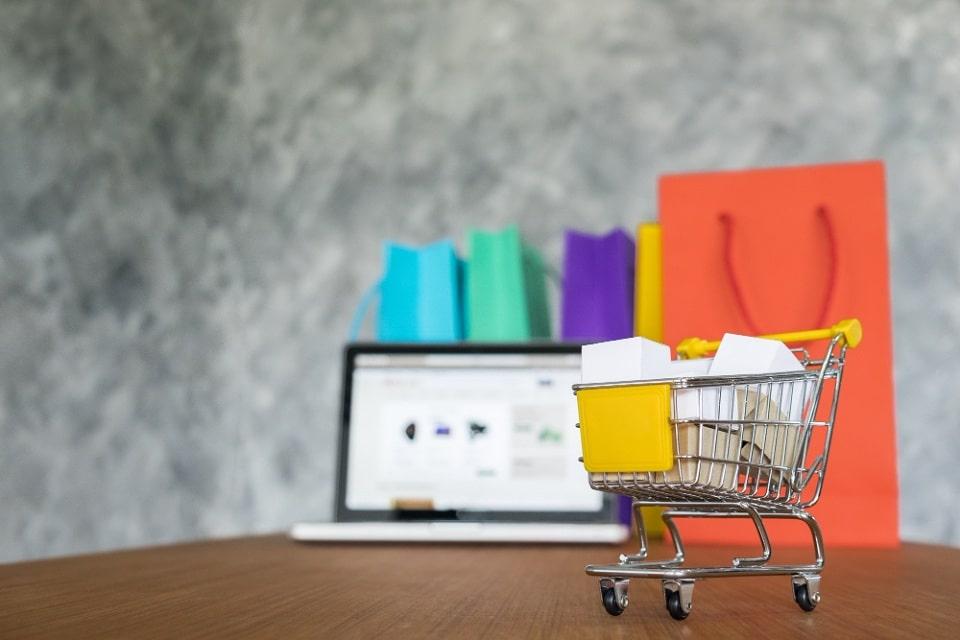 #1. Live Search
The first media via which a user can communicate with your store is thought to be searched.
Creating an e-commerce site is a crucial aspect of the user experience that needs to come first. Thanks to Adobe Commerce's Live Search function, Store UX has never been better.
You will have search-ending abilities with Live Search with the help of machine learning technology. You could then be able to offer search results that are optimized for increased conversion rates.
Fast search results will make it simpler for you to gather precise information about what visitors are searching for.
This will ensure that all the marketing techniques are refined. In addition, you can advertise something in the search results of Live Search.
Better product recommendations will result from the queries that will help increase customer experience along with sales.
Related: Shopify vs. Magento: Choosing The Most Dynamic Platforms of The Two
#2. B2B Functionalities
It might be hard to grow a B2B online store. It requires several facilities and tools to set up a practical B2B experience and provide the best possible service to your clients.
B2B buyers are typically picky and conduct extensive research before making a final decision because they purchase specific products in huge quantities.
In order to maximize conversions in B2B business, you must take every actionable step from product discovery to ultimate purchase. And in this situation, Adobe commerce is the best eCommerce platform option because it can effectively match your needs.
In contrast to other e-commerce systems, where you are required to perform numerous third-party integrations and bespoke programming, Adobe Commerce comes with built-in B2B functionalities.
Read: Top 6 Mobile Commerce Trends
#3. Support for Hybrid Business Models
In the e-commerce sector, changing the business strategy to reflect the most recent developments is commonplace. Many B2B companies choose to deliver products directly to their clients in order to enhance sales rates.
However, in order to drive and prosper a hybrid business model, it is essential to value target customers' preferences and have enough knowledge of online business for a better shopping experience.
In this situation, Adobe commerce provides you with a thorough understanding and vision to conduct user-friendly commercial transactions. There are a number of characteristics in Adobe Commerce that make it a viable option for hybrid businesses.
You can hire Magento developers to effectively reach your online business to your target customers, which will result in maximum profit for your business and keep it flourishing.
Read: Top 5 eCommerce Platforms to Choose
#4. Page Creator
One of the Unique Selling Propositions of Adobe commerce is its page builder, which is a crucial component of eCommerce.
With the aid of a page builder, you may efficiently create, edit, and modify your website pages without the assistance of developers.
As a result, it makes it simple for marketing and customer service teams to add a new page without requiring technical know-how.
#5. Self-Service Features
Conscious consumers want entirely customized service and prefer self-service, particularly in the B2B industry. Before making any final purchases, customers in the B2B sector want to conduct research.
In order to improve your buying experience, Adobe commerce streamlines the entire procedure before you decide to make the purchase. The following is a list of the self-service options offered by Adobe Commerce:
Setting roles and permissions
order by CSV or SKU upload
Maintain balances for purchases and credits
Reviewing products and publishing them
Tracking of reward points, together with retail credit and gift cards
Review and evaluation of order history
#6. Simple Integrations
Simple integration is a significant feature that makes abode commerce a better option for an eCommerce store, as this feature differentiates Adobe Commerce from other e-commerce CMS. It can be integrated with CRM and other customer service solutions through an API or extension.
The open-source platform Magento serves as the foundation of Adobe Commerce. As a result, it enables quick and straightforward integration of CRM and technologies, which improves business operations and lightens the strain. In this case, taking the Magento support package can be beneficial.
#7. Product Recommendations
Product recommendations are a better feature of Adobe Commerce that aids in sales growth. Users' search history, product searches, product order history, and other data are used by this feature of abode commerce.
Top shopping brands' usage of this feature has increased their sales rates by over 65%. That is why retailers may effectively market their sales using this eCommerce platform.
B2B merchants can use the product recommendation feature to expand their businesses because it is also helpful for them.
#8. Flexibility
Flexibility is an essential aspect of any online business, which helps increase its customers.
In today's market scenario, when the focus is on the client experience, significance should be placed on the e-commerce platform that provides the most customization to improve customer service.
But, you won't need to search much in this matter. You may completely personalise the user interface and overall experience using Adobe Commerce.
#9. Scalability
When running any internet business, you should always remember that future circumstances may require you to expand your business.
In order to meet your future objectives, the eCommerce development platform you select should be scalable. Fortunately, the scalable, reliable, and economical Adobe commerce development platform can be a better solution.
Depending on your business demands, you may quickly expand or contract the Adobe commerce store. You don't have to pay for a capacity that is not used, as this platform enables you to pay based on the money generated in the shop.
#10. Mobile Responsive
Smartphone usage is the highest today, and more than half of online store visitors browse on their phones. Therefore, it is essential to offer mobile-first design to customers, especially those whose online purchasing depends on smartphones.
With the help of Adobe Commerce's Progressive Web Application studio, often known as PWA, you can create websites that function similarly to mobile apps.
For new business owners who cannot afford two applications separately, such as a mobile app and web app, a progressive web application can be a preferable option.
Why is Magento Considered the Best eCommerce Platform?
Due to its cutting-edge features, Magento eCommerce has emerged as the ideal eCommerce platform for business growth. According to the most recent statistics, Magento owns 1.2% of the internet and 12% of all eCommerce websites.
Despite being the platform of choice for many retailers, Magento competes with other well-known eCommerce platforms. Merchants who use Magento often observe a 3% rise in their online store's growth rate.
Why is it Important for eCommerce SaaS Providers to Integrate with Magento?
You may require to link your company with Magento as a SaaS app provider if you want unfettered access to all platform customers. By integrating your app with this platform, you may access the e-whole store's database of product-related information.
You will be able to quickly sync, add, and eliminate all data about items, clients, orders, etc., by amalgamating with Magento. Additionally, updating and gathering data from each side can be streamlined.
What are the Versions of the Adobe Commerce Platform
Community Edition: This is an open-source, fully functional version of Adobe Commerce. For small to medium-sized businesses, the community edition is totally free. The comprehensive extension library offered by Magento Community Edition is used to modify the program and add necessary features.
Enterprise Edition: This is a paid edition of Adobe Commerce which comes with a tonne of premium features. It works best for medium-sized to large businesses. When managing frequent and significant online transactions, Adobe Commerce's Enterprise edition is the most popular choice.
What are the Benefits of Adobe Commerce Platform?
Open-source platform: Adobe commerce is an open-source platform. Your B2B firms can benefit greatly from using it. This will be helpful in modifying your website development concepts. It gives programmers access to a specific library of add-ons, themes, and connectors that link Magento with the majority of other commercial services.
Strong Features to Support B2B Growth: Adobe Commerce delivers features, including catalogue customization, customizable price listings, website management, and so on.
Manage Multiple Storefronts: Adobe Commerce offers a fantastic user experience and the flexibility to operate with several brands or currencies. It allows you to efficiently handle several storefronts with Adobe Commerce from a single interface.
Long-term financial savings: Adobe Commerce is a purchase that pays dividends in the long run. Combining with other order fulfilment platforms greatly reduces costs.
What is Adobe Commerce Cloud?
The new packaged service Adobe Commerce Cloud gives businesses a flexible and scalable platform to deal with, improve, and customize the commerce experience across all contact points.
Is Adobe Commerce Cloud Affordable?
The Magento Commerce Cloud and Adobe Commerce Cloud both operate under similar principles. You'll need a developer, an internal IT team, or an agency to create and manage an Adobe Commerce Cloud shop.
Magento has an incredibly complex setup, which raises the build cost. Because of the complexity of the development, design, extension, and different integrations needed, constructing an enterprise-level shop can cost more than six figures and escalate quickly.
The license charge for using Adobe software is not included in this. Depending on the size and structure of your company, this will change.
Why Should You Choose Adobe Cloud For Your Business?
An excellent eCommerce platform is Adobe Commerce. It is, without a doubt, a cutting-edge cloud eCommerce solution. This outstanding eCommerce platform unifies analytics, content production, and eCommerce.
In addition, it contains all the tools you require to launch your company's online presence, boost sales, and control the client experience. Because it is open source, it is simple to modify your eCommerce site to suit your needs.
Conclusion
Adobe Commerce can be considered the best eCommerce platform for Magento development services in practically every way.
It has exclusive B2B features, including Quote Management, Price Negotiation, Catalog, Custom Pricing, Multi-Channel Order Management, and so on.
There is no substitute for this e-commerce platform to spread your online business widely to many customers, ensuring good sales.