Online buyers purchase goods or services through the internet. The rise of e-commerce has made it possible for people to buy almost anything online, from clothing and electronics to food and personal care products.
Online shopping provides convenience and accessibility, as people can shop from their homes and have the items delivered directly to them.
Additionally, online shopping often offers a wider selection of products and the ability to compare prices from multiple sellers, making it easier for consumers to find the best deals.
7 Ways To Influence Buyer's Decision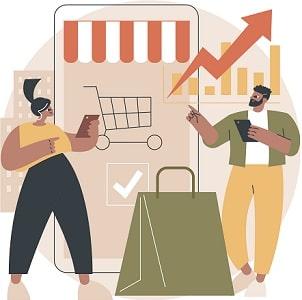 Convincing buyers to buy from your store can be challenging for a new business.
Remember that they already have their current store where they usually shop at.
In that case, you must do more than your competitors to entice new and existing customers.
Search engine optimization (SEO) can significantly influence a buyer's decision by helping your website rank higher in search results and reach a wider audience.
Here are some ways to Influence Buyer's Decision.
Read: Zale Media CRM Discusses The Most Effective Digital Marketing Software
#1. Keyword research:
Start by researching keywords related to your product or service, and use these keywords in your website's content, meta tags, and other elements. This will help your website rank higher in search results for relevant queries.
#2. Optimize your website's structure and content:
Ensure your website is easy to navigate and your content is organized and written. Use headings, subheadings, and bullet points to make your content easier to read and scan.
You have to outsource where you need to improve at. Regarding SEO, there are some latest developments and tools you will need to use to succeed in your campaign.
The better the SEO, the better you can sell to your target audience. It starts with hiring a reputable SEO company.
You can increase your site's traffic and convert your leads into buying customers for a high return on investment (ROI).
Related: Open Site Explorer: How to Use OSE SEO Tool
#3. Create high-quality content:
Offer valuable information about your products and services, including detailed product descriptions, customer reviews, and educational content.
By providing helpful and informative content, you can establish your brand as a trusted source of information and build credibility with potential buyers. It isn't easy to sell online without content.
You have to market your business through content marketing. Optimize your content for SEO so that search engines can index it.
This will help to improve its rank and drive traffic which can translate to many people buying from your store. Find a good SEO company in Brisbane to fine-tune your content to be relevant and highly visible online.
Read: Detect Spammy SEO Services To Stay Away
Highlight customer reviews and testimonials on your website to showcase the positive experiences of others and demonstrate the value of your products and services.
You must always pay attention to what the social media platform offers. The good thing is that you need to know where your target audience is.
Only some people on social media will be your customer or target audience. As such, you must research to determine whom you want to sell your product or service to. Use the social media platform to engage your followers.
With time, your brand will have established itself on social media, making it easy for you to sell to them. You have to send the word out there that you are in business. Start by telling stories that are in line with your business objectives.
It helps customers trust you and build a strong relationship with the target audience. To have a head start, bring in a Qualified SEO Company with a wide range of professionals to take care of your campaign.
Read: 6 Tips for Secure Email Marketing Campaigns
With such a company at your side, you will be able to ensure that every aspect of your campaign is taken care of. This will change how people view your product in terms of the decision to buy.
#5. Make use of schema markup:
Schema markup is code you can add to your website to help search engines understand the content on your page.
Using schema markup, you can help your website display rich snippets in search results, improving click-through rates and increasing visibility.
Read: The Ultimate Guide to SEO for E-Commerce Websites
#6. Optimize for mobile devices:
Many online searches are now performed on mobile devices, so it's important to ensure that your website is mobile-friendly. This can include using responsive design or creating a separate mobile version of your website.
#7. Create Videos and eBooks
You have to make videos for your business. It helps convince the buyer to make a particular decision, buying from your store. The videos have to be attractive and offer a call to action.
This works well to increase the likelihood of them buying. Also, you can write eBooks and give them out for free. Within the eBook, it is vital that you include links to your site.
If you want all the details of product X, click this link. EBooks educate your customers and offer them a solution which leads to buying.
By implementing these strategies, you can use SEO to help your website reach a wider audience, establish your brand as a trusted source of information, and ultimately influence a buyer's decision.