Most of the software companies out there wish to hire talented developers. However, with a large pool of software developers out there, you need to hire the right developer for your business. For most businesses and startups, there exists a dilemma of choosing a full-stack developer or specialized developer for their projects. Currently, in the software development market, full-stack developers are in the highest demand right now.
Fullstack developers got this much demand because businesses can hire full-stack developers to build their entire software, website, or mobile application. So these days small to medium-sized software development companies in India have ended the practice of hiring specialist developers to build front-end and back-end work for their project. In this blog, we will help you to make a wise decision in choosing a full-stack developer or specialized developer for your business software.
Full-stack Developer or Specialized Developer?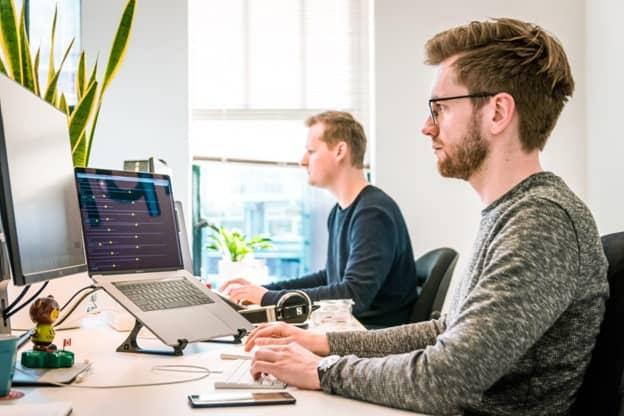 The term "full-stack developers" has been a popular phrase since the times when software development initially gained prominence. Full-stack developers use both front-end and back-end technologies along with an ability to manage the database.on the other hand, specialist developers will have deep knowledge in either front-end or back-end technologies. We will give you a detailed idea about front-end and back-end below:
Front-end: All that happens on a client-side such as our interaction with an interface of the application, visual part of a software or website is included in the front-end.
Back-end: Everything that happens on the server-side such as the database in the backend that provides the safe storage of your data and the programs that perform the business logic is included in the back-end.
Full-stack developers must master both front-end and back-end technologies, which include at least one or two programming languages such as .NET, C#, Python, etc. and some top javascript frameworks such as Angular, Node.js, React, Vue.JS, etc.
Full-stack developers can be very beneficial for budding startups and new businesses because hiring a full stack developer can eliminate the extra cost that is required to afford multiple developers. However, that's not the single reason you should hire a full stack developer.
Pros and Cons of a Full-Stack Developer
Pros of Full-stack Developer
When compared with developers who specialize in a single technology, full-stack developers have expertise in a wide spectrum of technology and frameworks.
Besides their knowledge in front-end and back-end, they can also handle databases. This helps in accelerating the software development process itself.
Full-stack developers are highly proficient in grasping almost any code because of their expertise in multiple technologies.
Cons of Full-stack Developer
They cant master a specific technology since they wouldn't spend a lot of time on a single technology.
Full-stack developers have a high risk of being overstretched with a lot of tasks. This can reduce their performance and could have a negative impact on the project.
Pros and Cons of a Specialized Developer
Pros of Specialized Developer
They have highly immersed knowledge within their discipline such as coding using a specific programming language, legacy code modernization, building graphic layouts, etc.
Since they concentrate on a single technology all the time, they will stay updated with the latest technologies.
Their code quality will be higher when compared with full-stack developers.
Cons of Specialized Developer
Businesses must shell out extra money to hire two specialists (for both front end and back end) instead of relying on a full-stack developer.
Over time, specialized developers will develop a dependency on other team members.
When to hire Full-stack developers?
From the above points, we hope you got a clear idea about the difference between a full stack developer and a specialized developer. The choice of your developer greatly depends on your project requirements such as the budget, complexity, and size of your project.
Full-stack developers will be best suited for small scale projects whereas complex projects require dedicated developers for each technology stack since they require deep knowledge in multiple facets of software development.
When to Hire Specialized Developers?
Project size can play a crucial role in the selection of your developers, you have to hire software developers if you have a large scale project. It is advisable to hire specialized developers who are having years of experience in a particular technological layer for large projects since they have more immense knowledge in rectifying small issues, and bottlenecks of the technology they are experts in. Hiring a specialized developer can be more beneficial when your project mainly deals with only one technological stack such as the creation of API services. In this case, hiring a back-end developer is the best solution. If on the other hand, you need to create a single page application without utilizing the backend, then hiring a front-end developer is more appropriate.
Finally, it should be kept in mind that a full-stack developer is best suited for startups and medium-sized software development companies. It will be better if you have at least one full-stack developer who keeps an eye on the development of a project as a whole and monitoring work progress in all areas. We hope you enjoyed the article Full-Stack Developer or Specialized Developer, which one is right for your business software.
More Related Posts
Who are Software Developers?
How To Choose a Right Mobile Application Developer!
MEAN Stack Apps for Developers Explained
What You "need to know" When Plan to "Hire Web Developers"
Top 20 .Net Developers Who Share Latest News And Information