Are you new into your business or do you a small or medium scale business? If yes, then VPS hosting is the best hosting to get your site hosted.
Many businesses prefer VPS hosting for managing the website's traffic and keeping it stable so that your business remains safe online. VPS hosting comes with a virtual private server that represents a physical server but is divided into several virtual servers and offers a private space in that environment.
You get a highly stable environment in terms of scalability and resources with VPS. The performance and uptime are excellent as you get an equal portion of the server space as well as high configuration of CPU and RAM.
Several hosting providers such as MilesWeb, HostGator, Hostinger, Bluehost, ect. Offer VPS hosting but I would recommend you to select MilesWeb as it offers reliable web hosting.
MilesWeb: A Small Host with Bold Claims
An India-based website hosting provider, MilesWeb was founded in 2012.  It boldly claims of being the "global leader in providing managed web hosting services". And yes they prove what they claim and take the responsibility of managing your servers, allowing you to grow your business.
It currently serves over 16,000 worldwide customers. They are popular for their all-round support offered by their expert technical team. You can contact their team either via live chat or email. They answer to your queries instantly and save your time unlike other web hosts.
There are 20 different location versions of their website. This shows their presence globally.
They offer decent range of hosting options such as cheap shared hosting plans, dedicated server packages, Windows VPS Server and Linux virtual private servers (VPS), and even WordPress-specific hosting. But will you find the right options for you? Is it "the best," as it boldly claims?
So, if you are finding a web host and have stumbled upon MilesWeb, just go through this review.
If you're ready, let's start.
MilesWeb VPS Hosting
MilesWeb is one of the cheap VPS hosting providers of India and also has been offering brilliant web plans for all types of websites over the past years with excellent features.
Their VPS hosting plans are based on KVM hypervisor technology and built-in SSD storage. KVM is an open-source virtualization infrastructure for Linux Kernel that gets converted into a hypervisor.
Looking for a reliable solution? MilesWeb is surely the best one to go with as they offer Cloud VPS with outstanding features. The Linux Cloud VPS starts at Rs.630/month.
Cheap VPS Hosting Plans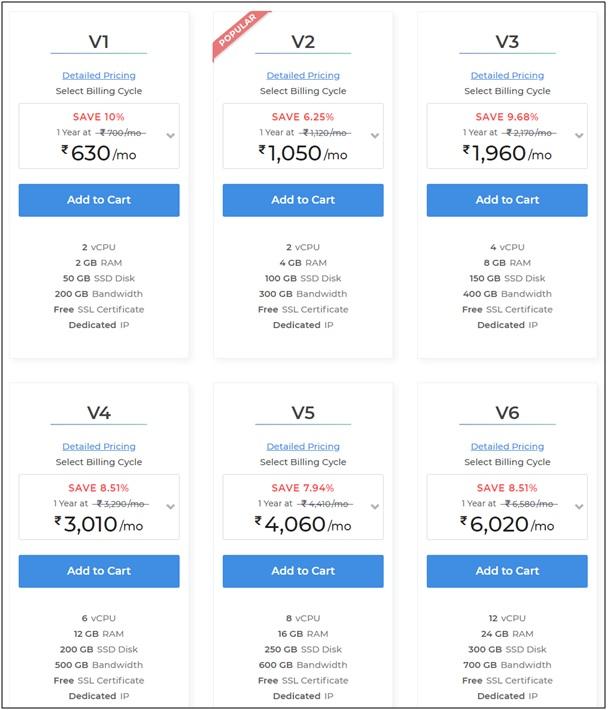 MilesWeb VPS Hosting Features
#1. Free Migration:
Not happy with your current web host? Why not switch to MilesWeb? You can move your website to MilesWeb at any time you want to. Their support team helps you to migrate your site free of cost.
They allow you to decide a time as per your convenience for the migration and let them know about it. Migration is done with complete data security.
#2. Superior Speed Performance:
From the user's point of view, you as well as other users don't like slow loading websites. MilesWeb promises unbeaten speed with its enterprise-grade hardware.
Your users might leave the website, if it doesn't load in the first few seconds. Considering this, they have ensured that their customers get the best possible speed by using the latest technology.
#3. Cloud Powered VPS:
This is the next best feature that offers the best performance. You get the best I/O performance with their managed virtual private servers. Their VPS hosting plans offer the power of dedicated servers and flexibility of cloud hosting.
#4. Solid-State Drives (SSD):
Since Solid State Drives use flash technology to store data, they help in improving the loading speed of your webpage. So, MilesWeb include SSDs that offer you fast speed and durability.
#5. SSH and Root Access:
SSH and root access allow you to get complete control over your VPS environment.
#6. Free VPS Management:
The complete server optimization and management of the VPS server for you without any extra charges.
#7. Resource Monitoring Dashboard:
With the simple and user-friendly dashboard, you can reboot VPS, manage server load, monitor memory usage and manage other configurations of your VPS server.
#8. Global Datacenters:
If you want the best uptime and speed for your website, you can get it by selecting the server location near your target audience. MilesWeb offers the server locations in UK, India, USA, Canada, Singapore and Australia.
#9. Host Multiple Sites:
You can host multiple sites with a single VPS account. MilesWeb VPS hosting allows you to host multiple domains.
#10. Instant Provisioning:
Get your VPS hosting account setup instantly. You don't need to wait long for your VPS hosting to get deployed.
#11. Free Setup:
You don't need to pay anything extra apart from your plan's price for setting up your VPS hosting account.
Conclusion
You get a ton of greatness at a budget-friendly price with MilesWeb and if you're not looking for something extremely excessive, you won't be disappointed with MilesWeb as you get ample of best features needed to make your hosting journey smooth and productive.
I can say that you get the great value for your money, as well as ease of use and excellent hosting provider to your site.
For More Latest Web Hosting NEWS and "MilesWeb Review", Visit Etech Spider. Follow us on Facebook and Twitter.