Suppose you decide to build a web-based site for your luxury real estate company or revamp an existing one.
In that case, there is a question about which luxury real estate website design company will assist you with this project and produce excellent results.
Be sure to consider the significance of this step, as a decision made in haste can lead to additional expenses in the future if you discover that the site is not designed correctly, has bugs and no mobile-friendly optimization devices, or has a poor UX/UI design.
4 Ways to Choose Luxury Real Estate Web Design Studio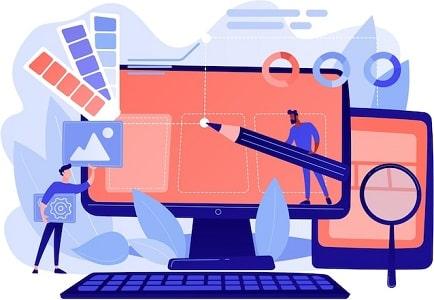 While the most secure approach is to pick partners from the top web design studios, if that isn't an option in your particular situation, we've devised several suggestions to help you locate a company for development that is compatible with your budget, your business goals, and high-quality standards.
#1. It is essential to define your goals clearly.
Before looking for web design firms to collaborate with, it's essential to establish clear objectives for your future website.
Consider your website for luxury real estate as a tool to accomplish specific tasks for your business, like lead generation, boosting brand awareness in attracting customers, and advertising your property.
Also, consider what functionality your website would require according to its business goals: multi-page navigation, search-engine-optimized content, SSL certification, HTTPS protocol support, and so on.
#2. Check their portfolio
You can be sure to a greater degree that the real estate luxury web design company you select will deliver top-quality service with your project when they have previous experience creating websites specifically for high-end real estate. However, cross-industrial expertise never hurts.
If a web design company has produced outstanding work for clients across various fields, They will probably provide the best solutions for your business's specific issues.
When looking through a portfolio, take note of the size of their clients and whether the firm prefers working with large companies (and large budgets) or prefers to collaborate with small-scale enterprises, as it could significantly affect their approach to work and development.
Check to see whether they developed all components of the projects listed without engaging freelancers.
The agency should have the resources needed to complete your project in-house since it will accelerate the development of your project and guarantee that you'll get the desired result without the need for additional expenses and losing precious time.
There's nothing wrong with freelancers; however, if they perform critical tasks for an assignment, the chances of a late delivery or being over budget can increase.
#3. Check online feedback
A different way to evaluate potential candidates for your development is to read online reviews and to contact previous customers directly, If possible.
Online reviews on sites such as Clutch or Trustpilot help determine customers' satisfaction level with their websites, the quality of their customer service, and how they handle complex problems.
Additionally, reviews on sites like Google, Facebook, and Yelp are a good way for a clearer view of a website design firm.
#4. Be on the lookout for awards.
One of the best ways to get industry recognition is through competitions and awards that reward the top performers of the best in the industry.
Professional web design companies regularly submit their efforts to credible web design awards and work to be on their list of nominees and winners. As one of the top web design awards everyone should know about, we highlight Awwwards.
It is based on a jury composed of professionals from the industry; CSS Design Awards guarantees that freelancers, studios, and agencies are recognized, whatever the magnitude of their businesses, and TheFWA, the international design awards system, has been operating since the early 2000s.
These awards are reliable indicators that a design studio is knowledgeable and offers high-quality services that meet the requirements of an international community of web designers.
Summarizing the situation
At first, it may be challenging to pick a top property web-design business. Begin by talking to people you trust, and speak to companies that have had experience with their services to get more information about them; and do not forget to look up online reviews.
Once you have decided on a few companies, you can set up appointments with them, in which you'll be able to describe the idea of your site and discover what services each company can offer.