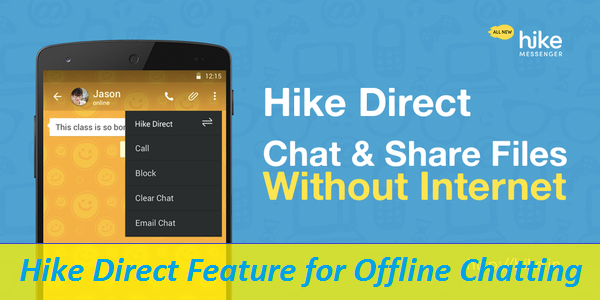 Hike Messenger introduced an all-new program named Hike Direct, which will allow the users to do their task of chatting even without an internet connection.
This new feature of cross-platform instant messaging already received 70 million subscribers across the world and increasing day by day as per the report of Company's officials.
The Hike Direct feature allows the users to send files as large as 70 MB within the span of time, 10 seconds. Well, Kavin Bharti Mittal the chief executive also cleared that the new offline chat program will not provide the same trait as Wi-Fi direct.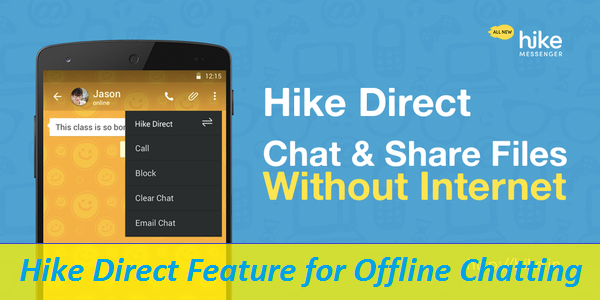 As Hike's main targeting audience is Indian and keeping the growing digital market of the country, the company is quite sure that the new feature will bring a revolutionary change in terms of instant messaging.
Though, according to a recent survey, India will reach to 500 million internet users by 2017, there are still some rural parts of India, where Internet isn't a wieldy thing to get. So, Hike's main aim is to target those audiences and help India to be digitalised. However, the offline chat feature will only work within the 100 meters of radius.
Keeping all those limitations in the mind, still it is indeed a unique feature that any instant messaging application introduced. It will surely gain the attention of the people of sylvan areas of India and will help to change the way of communication in a better way.
Using The Feature User Can
Send stickers
Chat
Transfer files as large as 70 MB
Without any internet connection
Hike messenger is available in all five dominant smartphone platforms, i.e. Android, iOS, Windows, Blackberry OS and Symbian, so it is accessible to a large number of smartphone users.
Over the year Hike introduced several cutting edge features like hidden chat, chat themes, regional sticker update which helped the company to jump from 15 million user base to 35 million in just two years of its release date.
How To See Last Seen on Hike!
You can choose who will be able to see your last seen:
Step 1: Open hike Settings.
Step 2: Select Privacy.
Step 3: Tap on Show Last Seen.
Step 4: Select as per your requirement.
According to the Recent Released Report, Hike now has a user base of 70 million and 20 billion messages are being sent each month till October, 2015. The "Great Indian Sticker Challenge" also helped the company to gain the big rush in terms of audience. Around 30% of users come from stickers, CEO also added.
In recent future Hike is also planning to introduce a pc version in order to receive more exposure, just like WhatsApp released few months back to allow its users to access the instant messaging application from desktop or PC. On the other hand, another thriving IM named KIK is also planning to enter the Indian market with PC version dubbed KIK for PC.
To be in this vying growing digital market of India, Hike the joint IM program of Japan's Softbank and India's Bharti Enterprises also introduced a coupon tab where there 70 million user base can buy from leading e-commerce companies and restaurants like Amazon, eBay, Domino's Pizza, Pizza Hut and many other dominant stores that too on great discounts.