Mobile application development refers to the cross mobile platform Applications that are developed for multiple platforms like iPhone, Android, Blackberry and Titanium.
Many native applications are developed by using cross-platform development tools and then adjustments are done by using variety of mobile application development services.
Many mobile application development companies are increasingly developing applications for mobiles owing to the increasing investment in this business sector.
They rely on some of the key players which are the latest tools used for "mobile application development".
Some of these latest mobile application development tools are:
Xamarin 2.0

Xamarin 2.0 is a mobile application development platform that was released in February 2013 by the San Francisco, California based software company Xamarin. This platform unified iOS, Android and OS X development tools into a single platform and have a full spectrum of functionality including Native API Access such as platform-specific capabilities like iBeacons and Android Fragments. Tools like Xamarin.iOS and Xamarin.Android are used to do native iOS, Android and Windows development in C#.
JQuery Mobile

it is web framework used for creating user interface of applications which support all main mobile platforms as well as desktop browsers. It offers development features like custom theme, lightweight code base, a variety of standard UI elements, touch-optimized and platform based UI widgets and many other features. It is an easy to learn framework that enables web developers to yield quality applications without complications.
PhoneGap
PhoneGap is a free and open source framework that uses standardized web APIs for the platforms to be developed, and is absolutely free to use. It is one of the most popular latest tools for mobile application development used by web developers and web development companies. Adobe is also using an enterprise version of PhoneGap. The Adobe-owned tool of PhoneGap relies on open source Apache Cordova project and incorporates marketing features through Adobe's Marketing Cloud.
Kony
Kony's mobile application development platform has revolutionized mobile business worldwide by bringing so many solutions to problems. It offers a range of tools for its enterprise Mobility Platform that helps companies to create applications using a single codebase. Kony is used to rapidly develop mobile apps as it uses JavaScript and simple drag and drop features of reusable widgets. It also enables developers to import existing libraries or that of any other party. The latest addition to Kony is its Mobile Fabric platform that is the first enterprise application development solution encapsulating multiple cloud service and middleware tools.
SAP – System Application Products
SAP is a trusted old player in the world of mobile application development since its launch in 1972 and has launched so many tools for developing mobile applications but it had been offering some confusing solutions. But now, the company has launched SAP Mobile Platform version 3.0 to simplify application development by bringing quick to implement solutions. This latest tool enables mobile application developers to build cross-platform enterprise applications by using a single HTML5 codebase.
Sencha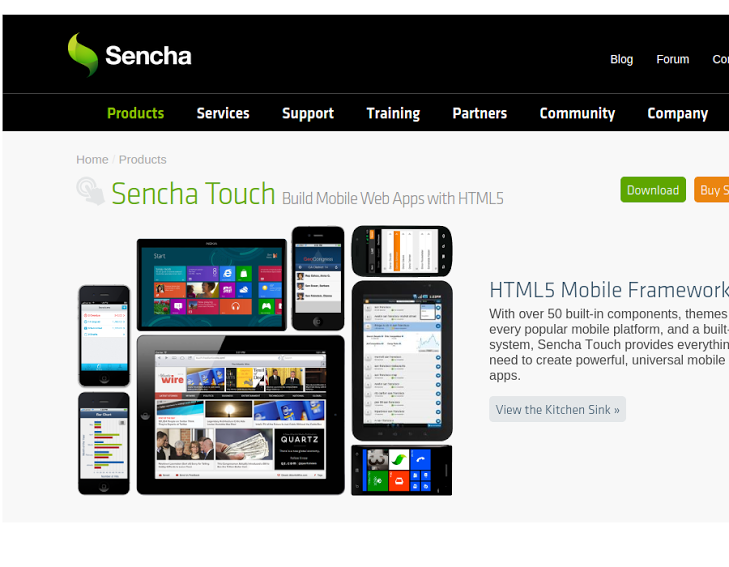 Sencha is one of the leading mobile app development framework launched by the company of same name. it provides HTML5-based application development tools and other services for developing universal applications that can be run on any device. Sencha brings variety of latest tools for cross platform application development like Sencha Architect, Sencha Animator, Sencha Touch and others. Its Ext JS 5 enables mobile application developers to build HTML5 apps that can then be converted into native applications by using PhoneGap.
MoSync

Another latest tool for mobile application development is MoSync that is an open-source software development kit for cross-platform applications development. It is used to create mobile applications through JavaScript, HTML, CSS, and C/C++ programming languages. It supports platforms like iOS, Android, Windows Phone, Windows Mobile, Symbian and for desktop operating systems like Windows XP and up, Mac OS X.
These latest tools have simplified mobile application development and companies like eTek Studio offering mobile application development services in Dubai also work on latest tools to build latest mobile applications for clients.